Welcome to the great state of Arizona, the home of one of the many wonders of the world, the Grand Canyon. AEA President Jim Casacchia thanks all visitors for stopping by to see what our Association is doing.
Want access to the Restricted Area? Log in or Register for an account above.
If you have not been to the new AEA Website before, Please register again, as we were not able to transfer the usernames and passwords. Sorry, for the inconvenience.
To Register you must be a member in Benevolent and Protective Order of Elks. With this registration you will gain access to certain documents such as our AEA Directory, Monthly Newsletters, other things that are only privileged to our members.
Our State Major Projects are the Steele Children's Research Center at the University of Arizona and the Youth Camp in Globe, AZ.
Want information on how to join our Order or information about a Lodge near you! Click the here to inquire.
Click to see photos of your 2017-18 Arizona Elks Association Officers, Appointees, Grand Lodge Representatives, along with their spouses.
The State President's Motto:
Good Communication Breeds Success!!

The State President's Monthly Message: 
Jim's Jibberish – November 2017
What a great Mid-year meeting we had this past weekend in Tempe.  We were honored to have the Grand Secretary, Bryan Klatt and his wife, Susan, join us and he held an hour long seminar telling us about his area of the Grand Lodge and what is available to our Lodges on a daily basis.  We also had the honor of hosting the California-Hawaii Elks Association President, Chuck and Ginger Nolan, as well as the Utah Elks Association President, Brian Lindsay.  Our attendance was 350+, which I believe was a good number for our fall meeting.  Our State and District Chairs gave their updated reports as to how their goals are coming along for the year.
I believe we are missing out on an opportunity to bring our new members into the fold of the activities of the Arizona Elks Association, by not asking more of the regular members to come and attend a convention.  When making visits, it is obvious that the knowledge of Elkdom seems to be centered on only their Lodge, and they do not see the overall accomplishments of the entire state organization.  I realize there is an expense involved, but, if they are not asked, their knowledge of Elkdom will not improve.  I challenge each Lodge to increase their participation in the upcoming May 9 – 12, 2018 convention.
I would be very remiss if I failed to thank the Vice Presidents this year and the reports they submitted at the convention.  I've read all the reports and am very encouraged by the work being performed at each Lodge.
I want to thank the Meetings Committee under the direction of the Chair, Charyll McKean, for the job well done in planning and executing this convention.  Her team as in the past, work tirelessly throughout the entire convention days and nights to make this an enjoyable and productive convention.  Please thank them when you see them in the halls, meeting rooms and the hospitality area.  Again, these are all volunteers and they deserve the credit.
I understand through many voices, that the "Penguin Party" was a success and there's been word of having a repeat performance of the skit, perhaps at the May convention, if I can persuade all the actors to perform again.  Stay tuned!
This month is Veteran's month, please remember to thank any veterans that you meet in your community and perhaps make a visit to a VA Hospital or VA Home/Care Center, and that Elks always remember,  "So long as there are Veterans, the Elks will never forget them".

Until next issue, I remain
Fraternally,

Jim Casacchia, President
Arizona Elks Association
---
Online Forms
Check out our Online Forms page we've got set up. Maybe you'll find an easier way of sending data to the appropriate person in the Arizona Elks Association.
Elks Training
Take the Training Quiz #6 Today! You will not be graded, however you will be able to grade yourself after submitting your answers. Please take the quiz today!
---
Arizona Elks Red Vest Order Form
If you're planning on heading to San Antonio for the 2018 Grand Lodge Convention order your RED VEST TODAY and show your Arizona Spirit and comradery.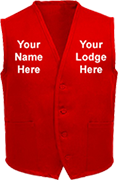 We offer the Arizona Elks Red Vests in sizes S, M, L, XL, and XXL. You can have your vest with or without a front pocket.
You have the option of Jerry Grimes from Kingman, picking up your vest for you, or you may have the vest delivered to your home.
Click on the Red Vest Order Form link above and email it. Contact information is on the form
---
Have a question about our Arizona Elks State Association or about the Benevolent and Protective Order of Elks?