Welcome to the great state of Arizona, the home of one of the many wonders of the world, the Grand Canyon. AEA President Jim Casacchia thanks all visitors for stopping by to see what our Association is doing.
Want access to the Restricted Area? Log in or Register for an account above.
If you have not been to the new AEA Website before, Please register again, as we were not able to transfer the usernames and passwords. Sorry, for the inconvenience.
To Register you must be a member in Benevolent and Protective Order of Elks. With this registration you will gain access to certain documents such as our AEA Directory, Monthly Newsletters, other things that are only privileged to our members.
Our State Major Projects are the Steele Children's Research Center at the University of Arizona and the Youth Camp in Globe, AZ.
Want information on how to join our Order or information about a Lodge near you! Click the here to inquire.
Click to see photos of your 2017-18 Arizona Elks Association Officers, Appointees, Grand Lodge Representatives, along with their spouses.
The State President's Motto:
Good Communication Breeds Success!!

The State President's Monthly Message: 
Jim's Jibberish – December 2017
HAPPY NEW YEAR
Dear Members,
We welcome in the New Year and are hoping and praying for a peaceful and wonderful New Year.
Just a reminder of our District Hoop Shoots coming up this month…each Saturday will find us in a different city for a different Hoop Shoot.  The dates and places can be found on the State website under the calendar. arizonaelksassociation.org. Please come out and support your District's kids vying for a title to move them on toward the State shoot on February 17th in Apache Junction.  Thanks to Gregg and Jeanne Boyce for their outstanding work on behalf of the Hoop Shoot and what it means to thousands of kids across the great state of Arizona and the nation.
I wanted to again suggest and challenge Lodges across Arizona to promote our two annual meetings at the state level.  Our annual AEA Convention will be held in Tempe at the Doubletree Hotel by Hilton on May 9-12, ending my tenure as your State President and the installation of incoming President, Mike Murphy from Tempe Lodge #2251.  Please come out and show your support and confidence for this new team of officers, as you have showed our current team your support.  One does not need to attend every dinner, lunch, etc., it's your choice to pick and choose.  If anyone talks of the cost involved, please let them know that they do not have to attend all the functions, but, the advantage in attending is that it builds teamwork within your Lodge, your District and especially in the State.  They will find interesting topics to discuss with fellow Elks from around the State, ex-change ideas and therefore, better the goals of the Arizona Elks.  The mid-year meeting is in October of each year…it's a nice way to start off the fall and the winter happenings.  It's a shorter meeting, by one day, and again, it gives an individual the chance to meet and greet fellow Elks from throughout our state.
Our delinquency rate is still high in our state.  We need to concentrate on this to show a positive number at the end of the fraternal year.  We have many waiting initiation into our Order.  Why is this not being addressed?  What is the hold-up?  Also, have you used your Stray Elks listing to check on new arrivals in your communities?  Now is the time to work on that.  There are more people moving into Arizona again since the economy seems to be on an upward trend.  Do not let those Stray Elks wander and roam without a "home".
Please don't forget our Progress Meeting on February 24th, I'm expecting all of our State Committee Chairs to be there and give their next to final report on their committees.  Jan and I wish everyone the very best of the New Year and that it brings all you want for you and your families.  Be safe and enjoy!
Until next issue, I remain
Fraternally,

Jim Casacchia, President
Arizona Elks Association
---
Online Forms
Check out our Online Forms page we've got set up. Maybe you'll find an easier way of sending data to the appropriate person in the Arizona Elks Association.
Elks Training
Take the Training Quiz #6 Today! You will not be graded, however you will be able to grade yourself after submitting your answers. Please take the quiz today!
---
Arizona Elks Red Vest Order Form
If you're planning on heading to San Antonio for the 2018 Grand Lodge Convention order your RED VEST TODAY and show your Arizona Spirit and comradery.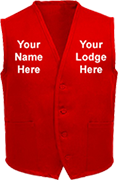 We offer the Arizona Elks Red Vests in sizes S, M, L, XL, and XXL. You can have your vest with or without a front pocket.
You have the option of Jerry Grimes from Kingman, picking up your vest for you, or you may have the vest delivered to your home.
Click on the Red Vest Order Form link above and email it. Contact information is on the form
---
Have a question about our Arizona Elks State Association or about the Benevolent and Protective Order of Elks?