Welcome to the great state of Arizona, the home of one of the many wonders of the world, the Grand Canyon. AEA President Jim Casacchia thanks all visitors for stopping by to see what our Association is doing.
Want access to the Restricted Area? Log in or Register for an account above.
If you have not been to the new AEA Website before, Please register again, as we were not able to transfer the usernames and passwords. Sorry, for the inconvenience.
To Register you must be a member in Benevolent and Protective Order of Elks. With this registration you will gain access to certain documents such as our AEA Directory, Monthly Newsletters, other things that are only privileged to our members.
Our State Major Projects are the Steele Children's Research Center at the University of Arizona and the Youth Camp in Globe, AZ.
Want information on how to join our Order or information about a Lodge near you! Click the here to inquire.
Click to see photos of your 2017-18 Arizona Elks Association Officers, Appointees, Grand Lodge Representatives, along with their spouses.
The State President's Motto:
Good Communication Breeds Success!!

The State President's Monthly Message: 
Jim's Jibberish – December 2017
MERRY CHRISTMAS AND HAPPY NEW YEAR
Dear Members all,
As we begin the second half of our year, Jan and I have so many warm and everlasting memories from our Area 7 State visits to our many visits to Lodges in Arizona.  We still have two Lodges remaining.  Again the reports of your Vice Presidents have been thoughtful and constructive.
Thanksgiving has passed but it just reminds us of the work we all do in our communities, by contributing to local food banks and supporting the most in need in our cities and towns.  Great work being done by the Best People On Earth.
I would be remiss if I didn't mention another one of our Lodges in need of a special representative, this should never be necessary.  As I have preached for the past two years, follow the statutes and stay out of trouble.  All Lodges should just comply.
I will be asking members to serve as escorts for our May convention.  This is a very important function and has always been one of Arizona's greatest achievements in protocol.
Again, Jan will be asking for your support of her "Undies for Veterans" project.  In October, this was a great success, it benefited Vets at the VA Hospitals and VA Homes state-wide.  What a great way to show our respect for their commitment to our nation.
As Christmas, not Xmas, approaches, let us look at what we can do for the less fortunate.  When you hear the Salvation Army bell ringing, do what you can to help.  When your place of worship asks you to give, try to support their cause.  Let's us also remember, we are a guiding force in your community and we must lead by example.  This will be a busy month for Elks Lodges, as Clothe-a-Child and Clothe-a-Veteran will be in full swing.
This month is also our remembrance of the Elks Memorial Service in honor of those who have passed, we will miss them.
As our Lodges have Christmas dinners and parties, please remember to ask for a designated driver in your group.  We want everyone to have a safe holiday.
I want to take this opportunity to convey a Very Blessed Christmas and Holiday Season from Jan and I, along with our family to all of you and your families.
Until next issue, I remain
Fraternally,

Jim Casacchia, President
Arizona Elks Association
---
Online Forms
Check out our Online Forms page we've got set up. Maybe you'll find an easier way of sending data to the appropriate person in the Arizona Elks Association.
Elks Training
Take the Training Quiz #6 Today! You will not be graded, however you will be able to grade yourself after submitting your answers. Please take the quiz today!
---
Arizona Elks Red Vest Order Form
If you're planning on heading to San Antonio for the 2018 Grand Lodge Convention order your RED VEST TODAY and show your Arizona Spirit and comradery.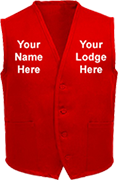 We offer the Arizona Elks Red Vests in sizes S, M, L, XL, and XXL. You can have your vest with or without a front pocket.
You have the option of Jerry Grimes from Kingman, picking up your vest for you, or you may have the vest delivered to your home.
Click on the Red Vest Order Form link above and email it. Contact information is on the form
---
Have a question about our Arizona Elks State Association or about the Benevolent and Protective Order of Elks?