Welcome to the great state of Arizona, the home of one of the many wonders of the world, the Grand Canyon. AEA President Jim Casacchia thanks all visitors for stopping by to see what our Association is doing.
Want access to the Restricted Area? Log in or Register for an account above.
                    ******The updated 2018 May Convention registration form can be accessed here and the 2018 Ritual Contest Forms here.******
If you have not been to the new AEA Website before, Please register again, as we were not able to transfer the usernames and passwords. Sorry, for the inconvenience.
To Register you must be a member in Benevolent and Protective Order of Elks. With this registration you will gain access to certain documents such as our AEA Directory, Monthly Newsletters, other things that are only privileged to our members.
Our State Major Projects are the Steele Children's Research Center at the University of Arizona and the Youth Camp in Globe, AZ.
Want information on how to join our Order or information about a Lodge near you! Click the here to inquire.
Click to see photos of your 2017-18 Arizona Elks Association Officers, Appointees, Grand Lodge Representatives, along with their spouses.
The State President's Motto:
Good Communication Breeds Success!!

The State President's Monthly Message: 
Jim's Jibberish – March 2018
Happy Easter
Another month has passed and March brings us closer to the end of our year.  We had our final progress meeting in Sun City and our committees had their opportunity to show the progress that has been made during the year.  What a great group of men and women.  Thanks again to the Sun City Lodge #2559 for hosting us.
We experienced a great State Hoop Shoot at Apache Junction on the 17th of February.  We have super young people heading to represent us in Las Vegas this month.  Gregg and Jeanne Boyce have again done an outstanding job with our Hoop Shoot.  These youngsters are what makes us proud to be Americans.  It is unfortunate that the evil ones get the hype in our news.  We are looking forward to riding the Junk Food Express with our kids and their parents.
Unfortunately, I have to bring up the two critical items where we are lacking.  I received the latest membership report and the lodges delinquency rates.  I don't see any improvement in making progress on these lists.  We only have a limited amount of time left to save our goal of a State Membership Gain!  Please try to work this list down….
Also, we have three lodges with a Special Representative assigned to them.  I hope you will take the advice of these dedicated Elks who assume the job and give up so much of their time to assist you.  They have tons of experience and only want to help your lodges.  
On a happier note, Jan and I attended the Area 7 Golf Tournament in Mesquite, NV.  Although, we didn't play golf, we had a great time.  One of the courses was "Oasis".  If it had snowed, you could have had an alpine skiing event.  It was beautiful, they supplied us with a cart and we had a great experience.  A big thank you to the Mesquite Lodge.  Arizona was represented by eight golfers from Page Lodge # 2498.  I thank them for representing us, maybe next year, we can have better Arizona participation.  A portion of the entry fees come back to each state's Major Project.  Arizona received $300 this year.  Way to go, Page!!  (See an article elsewhere in the AZ News)
This month, the All-American Lodge Contest is due on the 15th…don't forget.  Also, Contest E & F, the ENF Per Capita and Chairman Challenge are due.  Our Lodges will be conducting their Installation of Officers this month and presenting our Special Awards to Officers, Elks, Citizens and Special Citations.  Please remember the Elks that have done an outstanding job and went that extra mile to make your Lodge a better place.
This is also the month for the Irish!  Everyone is Irish on St. Patrick's Day!  At least, that's what I've always been told.  So, here's to the Good Luck that all talk about.  
 I will finish with a Happy Easter to you and your families, and hope that the world will be more peaceful.  We can all use that.
Until next issue, I remain
Fraternally,

Jim Casacchia, President
Arizona Elks Association
---
Online Forms
Check out our Online Forms page we've got set up. Maybe you'll find an easier way of sending data to the appropriate person in the Arizona Elks Association.
Elks Training
Take the Training Quiz #6 Today! You will not be graded, however you will be able to grade yourself after submitting your answers. Please take the quiz today!
---
Arizona Elks Red Vest Order Form
If you're planning on heading to San Antonio for the 2018 Grand Lodge Convention order your RED VEST TODAY and show your Arizona Spirit and comradery.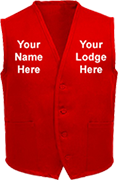 We offer the Arizona Elks Red Vests in sizes S, M, L, XL, and XXL. You can have your vest with or without a front pocket.
You have the option of Jerry Grimes from Kingman, picking up your vest for you, or you may have the vest delivered to your home.
Click on the Red Vest Order Form link above and email it. Contact information is on the form
---
Have a question about our Arizona Elks State Association or about the Benevolent and Protective Order of Elks?