Arizona Elks Major projects
Board of Directors
                                                             President      - Ira Cohen         Casas Adobes # 2663
                                                             Vice President - Roy Haddick       Bullhead City # 2408 
                                                             Secretary      – Ken Adams         Sierra Vista # 2065 
                                                             Treasurer      - Tim Woods         Phoenix # 335
                                                             EAST           - Wes Hawkins       Safford-Clifton # 1607 
                                                             EAST           - Sheila Stephenson Kearny # 2478 
                                                             NORTH          - Bill Justice      Page # 2498
                                                             WEST           - Albert S. Kayal   Phoenix # 335

                                                             Executive Director – Katie Murdoch 
                                                             Assistant          - Cathy Wright
                                                             Statutory Agent    - Tom Sylvester Tucson East # 2532 
                                                             Member At Large    – Dan Snyder    Raceway # 2852
                                                             Ex-Officio Member  - Mike Murphy   Tempe # 2251 
                                                             Financial Advisor  - Bob Burns     Tucson East # 2532
District Representatives
                                                                EAST  - Randy Appel    Chandler # 2429 
                                                                NORTH - Diana Polk     Chino Valley # 2842 
                                                                SOUTH - John Doucette  Sahuarita # 2851 
                                                                WEST  - Robert Gleason Sun City # 2559
Camp Advisory Committee
                                                            Chairman - Tom Miller          San Manuel # 2007 
                                                            East     - Dennis Appel        Chandler # 2429
                                                            North    - Jerry Haynes        Payson # 2154
                                                            South    - Lee Cook            Catalina Mountain # 2815 
                                                            West     - Valentino Bianchini Sun City # 2559
AEMP CAMP SCHOLARSHIP ADVISOR
                                                                       Ed Warner  Pinal Mountain # 2809
DISTRICT CHAIRMAN
                                                                   EAST  - Dennis Appel  Chandler # 2429 
                                                                   NORTH - Jerry Haynes  Payson # 2154 
                                                                   SOUTH - Jim Miller    Tucson # 385 
                                                                   WEST  - Larry Bodwell Phoenix # 335
Arizona Elks Major Projects (AEMP) – Oct 2018 Message

Katie Murdoch
October 2018
The Steele Children's Research Center and Dr. Ghishan have extended an offer to a candidate to fill the Elks Endowed Chair in Neonatology! The candidate, Mohamed Ahmed, MD will be joining the Steele Center along with his wife, Nahla Zaghloul, MD. Both Dr. Ahmed and Dr. Zaghloul will be joining the center from Hofstra University/Cohen Children's Hospital in New York. They will be starting in January 2019 and the level of excitement is palpable at the center! To be able to add their clinical and basic science expertise to the Neonatology Division is both an honor and a testament to the level of research and care being done there.
September was Pediatric Cancer Awareness Month and a family from Tucson who participated in Steele's Haploidentical Bone Marrow Transplantation study lead by Dr. Emmanuel Katsanis, are one of the first successes to report. Essentially, this study opens up the potential donor pool for children who need a transplant. This clinical trial allows first-degree donors (think parent, sibling, etc.) who may not be considered a suitable match with current treatment protocols, to be a match. Traditionally, donors must be nearly identical in order to be considered a match– this protocol allows for a donor to be 'half' of this. It is truly a remarkable study being done at the Steele Center that will save lives across the world.
It is through our support and dedication that these achievements in neonatology and bone marrow transplantations are happening. The Steele Center has become the top choice for families across the country (and even around the world!) to come and be treated for various pediatric diseases and disorders. The care and knowledge that they are offered is truly one of a kind. Continuing our efforts is crucial to the lives of so many children across the state, as well as across the country.
On behalf of AEMP and the Steele Center, thank you ALL for your support and passion towards improving the lives of children. After all, children's laughter is what we're after!
Fraternally,
Katie Murdoch
Executive Director AEMP
---
Introducing the New Holder of the Arizona Elks Endowed Chair in Statewide Pediatric Research – Dr. Wayne Morgan
In 2003, the Arizona Elks committed $2.5 million to creating the "Arizona Elks Endowed Chair in Neonatology Research." An endowed chair generates income that lasts forever. Every year, a portion of the interest is available to the Chair to support research and provide seed funding to promising young investigators interested in neonatal research.
The Dr. Fayez Ghishan, Director, UA Steele Children's Research Center recently announced a new appointee to the Elks Endowed Chair – Dr. Wayne Morgan.   Dr. Morgan was introduced at the mid-year convention last month, in case you missed it.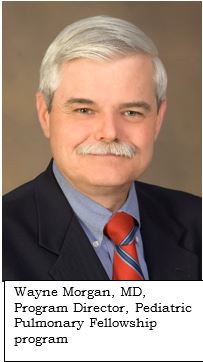 Dr. Morgan is a pediatric pulmonologist who is nationally recognized for his expertise as a respiratory physiologist, and has helped develop innovative lung function testing methods for infants and young children. His clinical and research interests include asthma, cystic fibrosis, bronchopulmonary dysplasia, and pediatric sleep medicine. Dr. Morgan is also an accomplished educator and has received several teaching awards for his skills in teaching respiratory physiology, clinical pediatrics, and pediatric pulmonary medicine. He has served as the principal investigator for the Tucson Field Center of the National Inner-City Asthma Study. This was an NIAID/NIH funded study of environmental and physician education/feedback interventions to improve the outcome of children with asthma who live in the inner city.  In 2015, Dr. Morgan was honored by the Cystic Fibrosis Foundation as Co-Chair of the 29th Annual North American Cystic Fibrosis Conference (NACFC).
This honorary role was given to Dr. Morgan in recognition and appreciation of his many years of valuable contributions, expertise, and service within the cystic fibrosis medical community.  In 2017, Dr. Morgan was named the Arizona Elks Endowed Chair in Statewide Pediatric Research.
---
UA Steele Children's Research Center Receives $2 Million from CDC to Continue Identifying Children with Autism Spectrum Disorders in Arizona
TUCSON, Ariz., —The University of Arizona College of Medicine – Tucson Steele Children's Research Center received a four-year, $2 million grant from the U.S. Centers for Disease Control and Prevention (CDC) to continue its Arizona Developmental Disabilities Surveillance Program (ADDSP).
The ADDSP is part of a multi-site effort to track autism spectrum disorders (ASD) and intellectual disabilities (ID) among U.S. school children.
ADDSP has conducted ASD surveillance in Arizona since 2000 as part of the Autism and Developmental Disability Monitoring (ADDM) Network. The UA pediatrics team reviews thousands of special education and clinic records each study year to report on the number of 4- and 8-year-old children with ASD and/or ID and on the demographic and behavioral characteristics of the affect-ed children. In study year 2010, ADDSP reported that approximately 1 in 64 8-year-olds living in Maricopa County had ASD, an in-crease from 1 in 154 children in 2000.
The study is led by co-principal-investigators Sydney Pettygrove, PhD, epidemiologist and assistant professor, UA Mel and Enid Zuckerman College of Public Health, and Margaret Kurzius-Spencer, MPH, MS, PhD, assistant profes-sor, UA Department of Pediatrics and the UA Steele Center.
"We will continue this intensive effort to monitor the prevalence of ASD and ID among 4- and 8-year-old children," said Dr. Kurzius-Spencer. "Our goals are to improve understanding of these disorders and to carry out education and outreach activities, working in tandem with our community partners."
The University of Arizona is one of 10 ADDM sites throughout the nation to receive funding this grant cycle. The data are collected systematically at these sites and are used by the CDC and others to com-pare ASD occurrence in different areas of the nation, to identify changes in prevalence over time and to improve the understanding of the impact of ASD on the community.
Autism spectrum disorders (ASD) are lifelong developmental disabilities characterized by repetitive or restricted behaviors or interests and marked impairment in social communication and interaction. ASD include autistic disorder, pervasive developmental disorder-not otherwise specified (PDD-NOS, including atypical autism), and Asperger disorder. ASD begins in early childhood and lasts throughout a person's life.
"Our next study year will be the definitive work on how the change from the DSM-IV to the DSM-5 criteria affects the prevalence of ASD and will allow us to continue to examine disparities in early screening and identification of ASD," said Dr. Pettygrove.
Co-investigators on the project include:
Sydney Rice, MD, associate professor and developmental pediatrician; Division of Genetics and Developmental Pediatrics, UA Department of Pediatrics; UA Steele Children's Research Center
Jennifer Andrews, MBA, coordinator, Division of Genetics and Developmental Pediatrics, UA Department of Pediatrics;
Gondy Leroy, PhD, associate professor; Management Information Systems
Paul Hsu, PhD, associate professor, Division of Epidemiology and Biostatistics, UA Mel and Enid Zuckerman College of Public Health.
---
Show your support and purchase an AEMP shirt today
---
2018 Mid-Year Raffle
2018 Mid-Year Raffle is a brand spankin' new 2018 John Deere XUV5904 S4 Gator with a 14' Big Tex trailer!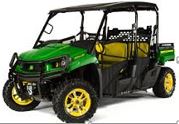 This American Made beauty has a 586 liquid cooled engine, 26"tires, power steering, digital  instruments, brush guard, winch package and cup holders. Tickets are available at your lodge or  online at elks4kids.org.  $5 each or 3 for $10. Thanks to Stotz Equipment in Willcox, AZ who gave us a great deal on this raffle prize. All proceeds benefit children, both at our Youth Camp and the UA Steele Children's Research Center.
---
Youth Camp – Globe, AZ
Located 40 miles Northeast of Globe, AZ, the Arizona Elks Youth Camp is one of our two Major Projects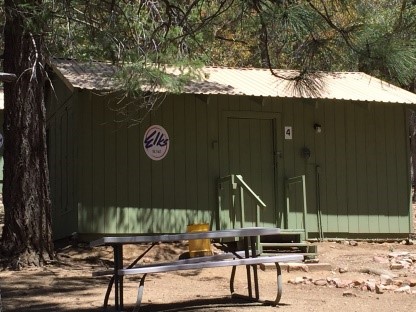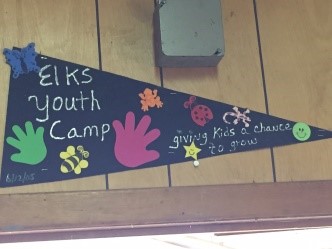 Photo: Youth Camp – Globe, AZ
---
UA Steele Children's Research Center
Located at the University of Arizona in Tucson, the UA Steele Center is a Major Project of the Arizona Elks Association.
"Our mission is to teach, to heal, and to discover."