Arizona Elks Major projects
Board of Directors
                                                             President      - Albert S. Kayal     Phoenix # 335
                                                             Vice President - John Doucette       Tuscon East # 2532 
                                                             Secretary      - Sheila Stephenson   Kearny # 2478 
                                                             Treasurer      - Tim Woods           Phoenix # 335
                                                             SOUTH          - Ken Adams           Sierra Vista # 2065 
                                                             EAST           - Dennis Appel        Chandler # 2429 
                                                             NORTH          - Thomas C. DiSisto   Jerome # 1361
                                                             North          - Roy Haddick         Bullhead City # 2408

                                                             Executive Director – Katie Murdoch 
                                                             Assistant          - Cathy Wright
                                                             Statutory Agent    - Tom Sylvester        Tucson East # 2532 
                                                             Member At Large    - Mike Weishan         Chandler # 2429
                                                             Ex-Officio Member  - Charyll McKean       Jerome # 13661 
                                                             Financial Advisor  - Bob Burns            Tucson East # 2532
District Representatives
                                                                EAST  - Randy Appel                Chandler # 2429 
                                                                NORTH - Richard "Rick" Kimberly    Sedona # 2291 
                                                                SOUTH - Richard Ross               Douglas # 955 
                                                                WEST  - Robert Gleason             Sun City # 2559
Camp Advisory Committee
                                                            Chairman - Dennis Appel        Chandler # 2429
                                                            South    - Lee Cook            Catalina Mountain # 2815
                                                            North    - Rocky Griggers      Payson # 2154
                                                            South    - Tom Miller          San Manuel # 2007 
                                                            West     - Valentino Bianchini Sun City # 2559
AEMP CAMP SCHOLARSHIP ADVISOR
                                                                       Ed Warner  Pinal Mountain # 2809
DISTRICT CHAIRMAN
                                                                   EAST  - Dennis Appel    Chandler # 2429 
                                                                   NORTH - Rocky Griggers  Payson # 2154 
                                                                   SOUTH - Mike Seeley     Ajo # 1576 
                                                                   WEST  - Larry Bodwell   Phoenix # 335
MP Per Capita Winners
East – Kearney # 2478 ($17.01)
South – Sierra Vista # 2065 ($18.34)
West – Yuma # 476 ($18.47)
North – Chino Valley # 2842 ($20.80)
At the Convention in Tempe, Our Major Project collected 3,852 items for the Children at the Steel Research Center including 50 boxes of books.
During the Exalted Rulers March and the AEMP business session $78,637.00 was donated to continue the great works our Association does for the Children of Arizona.
L. Cedric Austin Memorial Golf Tournament Information
Arizona Elks Major Projects (AEMP) – Message

Katie Murdoch
April 2019
I would like to personally thank all of the lodges who generously donated their time in helping with 4th Avenue Street Fair in March! The continued efforts from dedicated lodges in assisting with this busy event is greatly appreciated and our community presence is always well received!
As we enter into spring and summer, I am making great effort to increase our community presence across the state of Arizona. I was featured on the local news in Tucson for our sponsorship of the annual Autism Walk and Resource Fair which gave me the opportunity to share how truly amazing the Elks are in their mission of bettering the lives of children. Our support of the Autism Walk not only benefits children who are seen at the Steele Children's Research Center, but also benefits us as an organization to spread the word on who we are and what we do as the Benevolent and Protective Order of Elks. The walk was a huge success and I would love to find other opportunities around the state to do the same. If you have any ideas or recommendations, please email me at katie@azelksmp.com.
I would also like to offer my assistance in helping with events that benefit AEMP with your lodge. I consider it an honor to be included in your efforts to raise money for the Steele Children's Research Center and the Jack C. Warter Youth Camp so please don't hesitate to reach out to me with your needs. I am always in awe of all that you have done and continue to do for your Major Projects.
If any lodges need more raffle tickets and/or posters, please contact the office at (520) 326-0556 and we will be sure to send more out to you. I will also be bringing extras to the May convention for anyone who might need them. It has been very exciting putting the tickets into the raffle drum!
Be sure to check out the new website at www.azelksmp.com !!
Fraternally,
Katie Murdoch
Executive Director AEMP
---
Introducing the New Holder of the Arizona Elks Endowed Chair in Statewide Pediatric Research – Dr. Wayne Morgan
In 2003, the Arizona Elks committed $2.5 million to creating the "Arizona Elks Endowed Chair in Neonatology Research." An endowed chair generates income that lasts forever. Every year, a portion of the interest is available to the Chair to support research and provide seed funding to promising young investigators interested in neonatal research.
The Dr. Fayez Ghishan, Director, UA Steele Children's Research Center recently announced a new appointee to the Elks Endowed Chair – Dr. Wayne Morgan. Dr. Morgan was introduced at the mid-year convention last month, in case you missed it.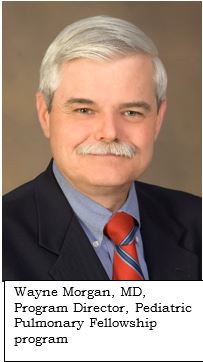 Dr. Morgan is a pediatric pulmonologist who is nationally recognized for his expertise as a respiratory physiologist, and has helped develop innovative lung function testing methods for infants and young children. His clinical and research interests include asthma, cystic fibrosis, bronchopulmonary dysplasia, and pediatric sleep medicine. Dr. Morgan is also an accomplished educator and has received several teaching awards for his skills in teaching respiratory physiology, clinical pediatrics, and pediatric pulmonary medicine. He has served as the principal investigator for the Tucson Field Center of the National Inner-City Asthma Study. This was an NIAID/NIH funded study of environmental and physician education/feedback interventions to improve the outcome of children with asthma who live in the inner city. In 2015, Dr. Morgan was honored by the Cystic Fibrosis Foundation as Co-Chair of the 29th Annual North American Cystic Fibrosis Conference (NACFC).
This honorary role was given to Dr. Morgan in recognition and appreciation of his many years of valuable contributions, expertise, and service within the cystic fibrosis medical community. In 2017, Dr. Morgan was named the Arizona Elks Endowed Chair in Statewide Pediatric Research.
---
UA Steele Children's Research Center Receives $2 Million from CDC to Continue Identifying Children with Autism Spectrum Disorders in Arizona
TUCSON, Ariz., —The University of Arizona College of Medicine – Tucson Steele Children's Research Center received a four-year, $2 million grant from the U.S. Centers for Disease Control and Prevention (CDC) to continue its Arizona Developmental Disabilities Surveillance Program (ADDSP).
The ADDSP is part of a multi-site effort to track autism spectrum disorders (ASD) and intellectual disabilities (ID) among U.S. school children.
ADDSP has conducted ASD surveillance in Arizona since 2000 as part of the Autism and Developmental Disability Monitoring (ADDM) Network. The UA pediatrics team reviews thousands of special education and clinic records each study year to report on the number of 4- and 8-year-old children with ASD and/or ID and on the demographic and behavioral characteristics of the affect-ed children. In study year 2010, ADDSP reported that approximately 1 in 64 8-year-olds living in Maricopa County had ASD, an in-crease from 1 in 154 children in 2000.
The study is led by co-principal-investigators Sydney Pettygrove, PhD, epidemiologist and assistant professor, UA Mel and Enid Zuckerman College of Public Health, and Margaret Kurzius-Spencer, MPH, MS, PhD, assistant profes-sor, UA Department of Pediatrics and the UA Steele Center.
"We will continue this intensive effort to monitor the prevalence of ASD and ID among 4- and 8-year-old children," said Dr. Kurzius-Spencer. "Our goals are to improve understanding of these disorders and to carry out education and outreach activities, working in tandem with our community partners."
The University of Arizona is one of 10 ADDM sites throughout the nation to receive funding this grant cycle. The data are collected systematically at these sites and are used by the CDC and others to com-pare ASD occurrence in different areas of the nation, to identify changes in prevalence over time and to improve the understanding of the impact of ASD on the community.
Autism spectrum disorders (ASD) are lifelong developmental disabilities characterized by repetitive or restricted behaviors or interests and marked impairment in social communication and interaction. ASD include autistic disorder, pervasive developmental disorder-not otherwise specified (PDD-NOS, including atypical autism), and Asperger disorder. ASD begins in early childhood and lasts throughout a person's life.
"Our next study year will be the definitive work on how the change from the DSM-IV to the DSM-5 criteria affects the prevalence of ASD and will allow us to continue to examine disparities in early screening and identification of ASD," said Dr. Pettygrove.
Co-investigators on the project include:
Sydney Rice, MD, associate professor and developmental pediatrician; Division of Genetics and Developmental Pediatrics, UA Department of Pediatrics; UA Steele Children's Research Center
Jennifer Andrews, MBA, coordinator, Division of Genetics and Developmental Pediatrics, UA Department of Pediatrics;
Gondy Leroy, PhD, associate professor; Management Information Systems
Paul Hsu, PhD, associate professor, Division of Epidemiology and Biostatistics, UA Mel and Enid Zuckerman College of Public Health.
---
2018 Mid-Year Raffle
2018 Mid-Year Raffle is a brand spankin' new 2018 John Deere XUV5904 S4 Gator with a 14' Big Tex trailer!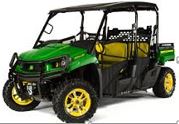 This American Made beauty has a 586 liquid cooled engine, 26"tires, power steering, digital instruments, brush guard, winch package and cup holders. Tickets are available at your lodge or online at elks4kids.org. $5 each or 3 for $10. Thanks to Stotz Equipment in Willcox, AZ who gave us a great deal on this raffle prize. All proceeds benefit children, both at our Youth Camp and the UA Steele Children's Research Center.
2018 Mid-Year Raffle Tickets
---
Youth Camp – Globe, AZ
Located 40 miles Northeast of Globe, AZ, the Arizona Elks Youth Camp is one of our two Major Projects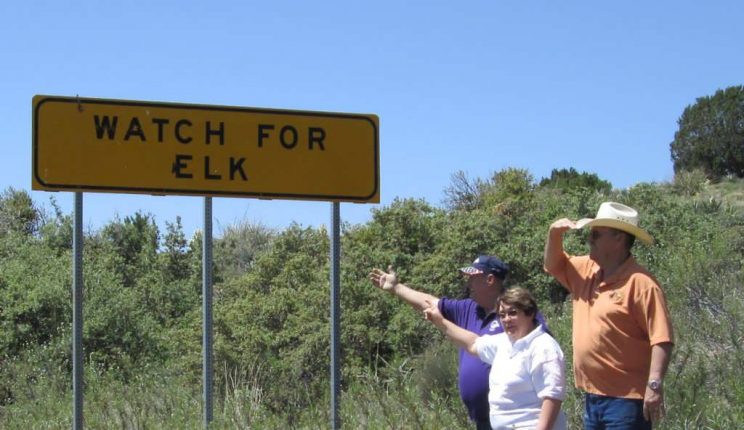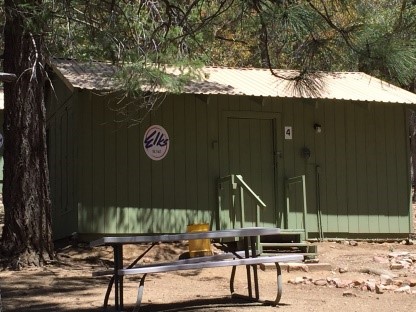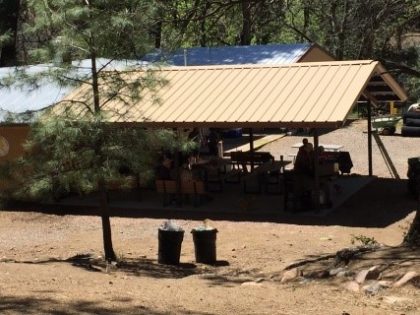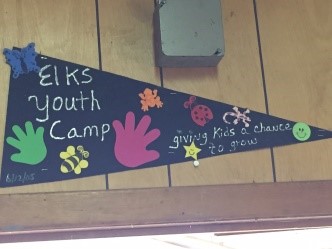 Photo: Youth Camp – Globe, AZ
---
UA Steele Children's Research Center
Located at the University of Arizona in Tucson, the UA Steele Center is a Major Project of the Arizona Elks Association.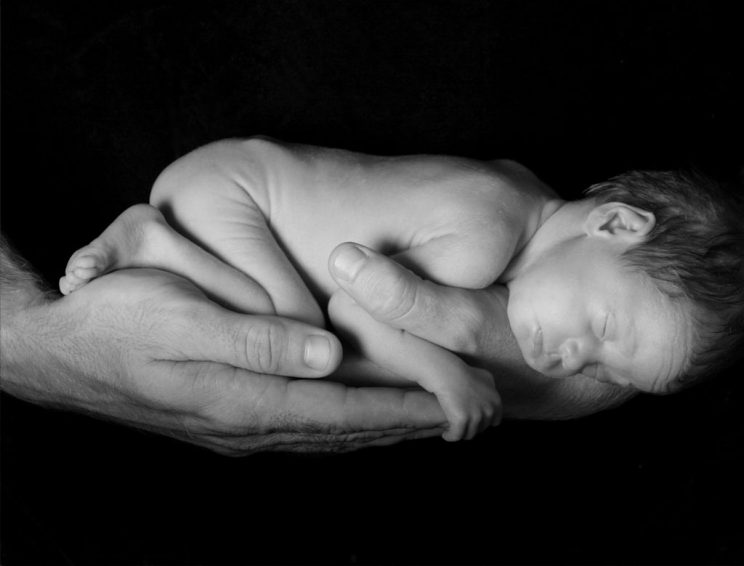 "Our mission is to teach, to heal, and to discover."